Shipping Costs
When making their shipping strategies eCommerce businesses need to maintain a balance between customer satisfaction by offering affordable shipping and their profit margins. This is why accurate calculation of shipping costs is important. This post delves into method of calculating shipping charges by shipping carriers, such as FedEx and UPS.
ShippingChimp rate calculator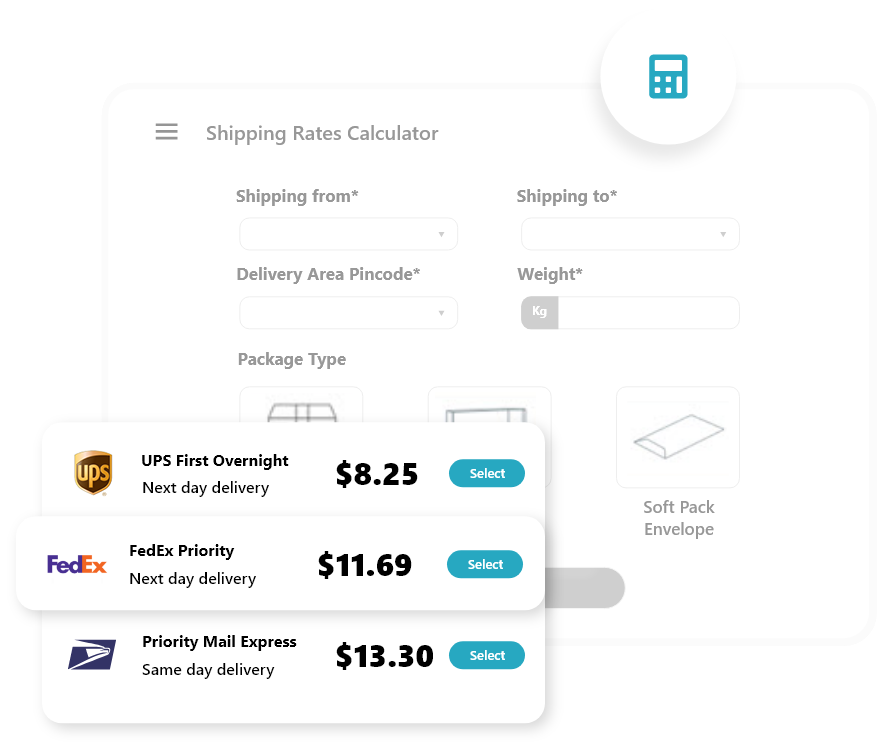 Trusted by the worlds leading brands




Ecommerce shipping strategies are much more than offering free shipping and fast delivery to customers. You also need to make sure that you are not losing money.
Nearly 73 percent of online customers look for low-cost and fast deliveries every time they shop online. However, by offering cheap or free shipping to customers, are you hurting the bottom line of your business?
The following eCommerce statistics show that your shipping strategy is a major contributor to the success of your business:
38 percent of shoppers say they will not buy anything from an online store again after a negative shipping experience.
60 percent of shoppers will choose another store that offers more convenient shipping options.
74 percent of shoppers consider free shipping a crucial factor at the time of check-out.
45 percent of customers abandon a shopping cart due to unsatisfactory shipping options.
Considering the above data, your challenge as an eCommerce business owner is keeping a balance between customer satisfaction and maintaining your margins.
Tracking and managing your shipping/logistics costs is crucial to make your online eCommerce business profitable.
In this post, we will talk about calculating shipping costs effectively so that you do not have to pay them out of your pocket.
Calculating Shipping Costs
When calculating the shipping costs, you need to find out the cost of various combinations of items at the time of shipping.
Shipping rates vary based on a range of factors, such as shipment type, weight, package measurements, destination, and more. After calculating these variables, a courier will let you know the total cost of shipment.
During the pandemic in 2020, major carriers like UPS and FedEx revised their shipping cost to meet their increased expenses.
Both the carriers provide a detailed list of shipping costs. It helps eCommerce businesses to learn about the box or package sizes to make calculations less complicated. Calculating shipping costs requires more than knowing your package dimensions. It is important to know the shipping estimate before negotiating discounted rate.
Here are the six factors that affect the cost of shipping of your eCommerce store:
1. The Dimensional Weight of Packages
All the major shipping carriers use the dimensional (DIM) weight method when calculating shipping costs. DIM weight is about the size of a package to figure out the shipping cost.
The main concept of DIM weight revolves around space management. Due to the limited space in the delivery truck, shipping carriers consider the DIM weight of packages to find out the density of the packages and shipping costs. So, a carrier will use the DIM method even if you ship a lightweight parcel.
When calculating the dimensional weight, you need to multiply the height, length, and width of packages, taking into account their longest points on each side. Next, the carrier calculates the cubic size (inches) of a package to determine the DIM weight (pounds).
The steps to calculate the DIM weight are below:
First, a carrier will consider the dimensions of a package, along with their longest point on each side. While measuring the package, they will check the misalignment or bulges in the packages. Issues like these may cost you increased shipping costs.
A shipping carrier usually rounds up the nearest whole number when calculating the DIM weight.
After that, the carrier calculates the cubic size of the packages after multiplying the dimensions.
Finally, the carrier divides the cubic size of a package with a DIM divisor or dimensional factor. Major carriers like FedEx and UPS set DIM divisors, which are the elements representing cubic inches per pound.
Currently, both FedEx and UPS apply 139 cubic inches/pound as their DIM divisor for domestic as well as international shipping.
To increase the profit margin, usually carriers consider a package weight based on its dimensions (length x width x height) instead of its actual weight. This is how they calculate the DIM weight pricing.
2. Actual Package Weight
The parcel weight is the heaviness of an item. Here no calculation or DIM divisor is needed.
As discussed above, if the package weight is higher than the DIM weight, the carrier will use it to calculate shipping costs. The larger and heavier the package the higher the shipping cost.
3. Shipping Destination
When calculating shipping costs, carriers use various shipping zones. Shipping zones have the measure of the distance between the point of origin of a package and its destination.
In the US, FedEx has 8 shipping zones, for FedEx Home Delivery and FedEx Ground. UPS too has 8 shipping zones.
The cost of shipping will increase with higher shipping zones.
4. Value of items shipped
When shipping high-value products, it is better to get your shipments insured. Shipping insurance will reimburse you in case your packages go missing, lost, stolen, or damaged in transit. Although insurance is important, it will add up substantially to your shipping cost.
5. Estimated delivery time
These days, customers expect fast shipping whenever they shop online, particularly after the introduction of Amazon Prime. However, if you are shipping packages from only one location, premium shipping will be more expensive with higher zones.
It means for 1-day or 2-day shipping to customers in Zone 1, ground shipping will be enough. However, 2-day shipping to Zone 8 will be costlier due to expedited air shipping.
6. Unforeseen events
Regardless of how agile your shipping strategy is, unforeseen events may crop up at any time, such as natural disasters, roadblocks, political unrest, etc. These issues may cause delays in transit, or even lost or damaged items. Although nobody can predict these events, make sure to have a contingency plan ready, along with a bit of extra shipping budget to deal with these situations.
Example of eCommerce Shipping Costs
Configuring a shipping rule taking into account all costs is hard. Assume you have just chosen a carrier to ship your packages. Now, you have to ensure that your profit margins remain high with the costs below.
The following table below has a breakdown of eCommerce shipping costs with a profit margin of 50 percent:
| | |
| --- | --- |
| Cost of goods | $30.00 |
| Shipping cost | $4.00 |
| Cost of Packaging | $0.85 |
| Processing Charge - Credit card | $2.00 |
| Total cost | $36.85 |
| Profit margin | 50% |
| Selling price | $73.70 |
USPS, FedEx and UPS Shipping Cost Calculators
USPS Shipping Cost Calculator
The most popular option while using USPS is the flat rate boxes. The cost of flat rate boxes starts from $5. This is a great shipping carrier option for light weight items.
On the other hand, USPS priority mail is popular for expedited shipping. When a parcel needs to be delivered in 2-3 business days, priority mail express is economical.
Check the USPS shipping calculator to get a fair estimate of the shipping cost.
Both FedEx and UPS consider most of the factors mentioned in the previous sections and offer different shipping cost calculations.
Here are the shipping cost calculators for these two global shipping carriers.
FedEx Shipping Cost Calculator
FedEx applies the DIM weight to calculate shipping costs. The carrier offers a range of delivery speeds, such as same-day, ground, and overnight.
FedEx has a Small Business program to help start-up or growing companies that look for affordable shipping solutions. Besides, the members of the FedEx Small Business program receive up to 16 percent discount on select shipments.
You can check the FedEx Rate Finder tool to calculate their shipping costs.
UPS Shipping Cost Calculator
UPS also considers the DIM weight when calculating shipping costs. The costs of shipping depend on different UPS shipping options, such as UPS Ground, UPS 2nd Day Air, or 3-Day Select.
UPS has its Connect program that offers discounts to small businesses depending on the shipping options they use. For example, UPS offers a 20 percent discount for air and international shipments and 10 percent for ground shipping.
Check the UPS shipping calculator to find out accurate shipping costs.