Ecommerce Customer Support
Customer support has become a key factor to delight and retain customers. Responsive eCommerce customer support makes sure shoppers stay with your brand. ShippingChimp is tightly integrated with popular help desk like Gorgias, Zendesk, Freshdesk and Zoho Desk to bring to eCommerce customers the best support experience.
Start your free trial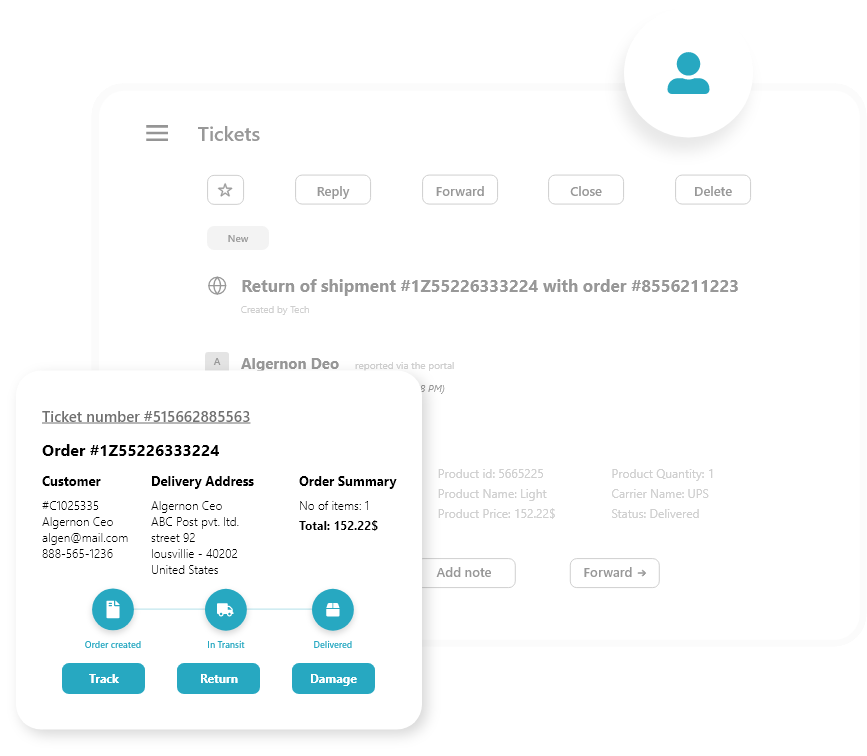 Trusted by the worlds leading brands




A report by Finaria reveals that the eCommerce market worldwide will likely grow at the rate of 265 percent and hit the $2.7 trillion mark in 2021. The market will grow further to $3.4 trillion by 2025.
It means to remain competitive customer service will be the key for eCommerce businesses.
If we go by the Pareto Principle, almost 20 percent of repeat customers account for 80 percent of sales. So, you should try retaining the 20 percent of customers with excellent eCommerce customer service.
Now, to keep up with the large volumes of online visits and orders, the eCommerce customer support team needs to spruce it up to solve customers' issues.
The customer expectation from an eCommerce brand is soaring high. They expect instant responses and seamless brand experience. The quality of eCommerce customer support can define the brand's identity and lay the foundation for the brand's reputation.
What is eCommerce Customer Service?
Simply put, eCommerce customer service is the service that an eCommerce business provides to solve online customers' issues.
Customers can ask for help to track their order, whether it is shipping or delivery. On other occasions, your customer support team may have to answer questions to prospective customers on product, price, or other topics.
When customers come to your business through various channels such as phone, live chat, or email, they expect fast and friendly customer service. If your business fails to live up to their expectations, your brand reputation will take a hit.
You can run a survey using a platform like Survey Monkey with several open-ended questions to learn about what your customers think of your business.
Also, if you are busing an ecommerce software app, check the following:
Total number of tickets created
Nature of the issues
Response times
Current issue resolution rate.
If the total number of tickets is too high, or the response time or resolution rates are low, then perhaps your customer support team is not performing efficiently.
According to a PwC report, 73 percent of consumers mentioned that their customer experience influences their purchasing decision. Around 42 percent of customers are ready to shell out some extra amount for a responsive and friendly experience.
This data indicates that the quality of your eCommerce customer service can increase conversions for your business.
Things to do for Effective ECommerce Customer Support
The following ways can help you improve your customer service.
Set up a multichannel customer service process
These days, it is essential to integrate a multichannel customer service strategy where your business can use different communication channels to connect and develop rapport with customers.
For example, you can make customer service easily accessible through Facebook, Twitter, WhatsApp, or live chat. Also, make sure to provide 24/7 customer service over the telephone and email.
A survey by the Aberdeen Group reveals that online businesses with robust multichannel customer support processes have an average customer retention rate of 89 percent.
When you set up these customer service channels, make sure they know about the options they can use. Most importantly, provide high-quality and agile customer service in all the channels.
Automate order-delivery notifications
'Where is my order?' makes up to 80% of the eCommerce support queries. Shoppers are often anxious until they receive their orders. If the order is not delivered on time, they flip. They are likely to switch to your competitor citing poor delivery experience.
The best way to delight your customers is to keep them informed on every shipment activity. This is easily achieved by configuring automatic delivery alerts. An alert will be automatically triggered for various order updates such as 'shipment reached the distribution facility' or 'shipment experiencing delay'. By staying on top of order delivery statuses, brands can transform a poor experience into a delightful one.
Be Super Responsive
These days, customers want quick responses and solutions to their issues.
Automated services are good for generic queries. However, if your customers face some major issues, they would want to speak or chat with a real person. In those cases, automated services can annoy them. Eventually, it could result in negative customer reviews.
A recent survey highlights that over 80 percent of eCommerce customers expect to receive a response to their email from the customer support team within 24 hours.
If your customer support team takes more than a day to respond to customers' questions, the efficiency would be lower than the current standard. It could negatively affect your eCommerce metrics.
It means your customer service team needs to be super responsive when it comes to customer queries, be it shipping delays, delivery date, or something else. Keep your phone line open, live chat, and social media channels active to respond to customers' questions.
Be Super Responsive
It is still a vastly underrated method in eCommerce customer service. Data shows that over 60 percent of American consumers prefer a self-service option on a brand's website or mobile app.
Around 77 percent of online shoppers prefer using a self-service option. A survey by Forrester shows that among all the self-service options, customers find knowledge bases more useful.
In your website's knowledge base, you can add answers to all the FAQs and reduce the query volumes of customers by at least 20 percent.
Include a returns self-serve portal to facilitate easy returns. Also, improve the incoming grievances about lost or damages with a self-serve lost/damage dispute portal.
Provide Customized Service
More often than not, customers want a customized solution to their issues rather than canned responses through email or chat. How your customer support responds to customers' queries will determine if those customers will stick to your brand or move on.
Ecommerce customer service is way more than shipping, order tracking, package delivery, or returns/refunds. To provide a memorable customer experience, your customer service agents need to lend a helping hand to customers and make them feel assured.
Customers consider a brand as an expert and may look for guidance on the suitability of a product or service. For example, StitchFix offers clothing options based on customers' styles and sizes.
If such customizable options are available, customers will feel a sense of reliability, which will pave the way for repeat purchases.
A survey result by Accenture states that 33 percent of consumers switch a brand due to a lack of customized services.
Providing customized, well-informed, and friendly customer service will likely make your business edge out other online stores.
Ask for Customer Feedback
In this digital era, customers can express their delight and dissatisfaction on various online review platforms. Those reviews can make or break the reputation of a brand.
If customers are not satisfied with your service, they might vent their frustration by writing negative online reviews.
Both positive and negative reviews work as social proofs for potential customers and influence their decision of buying a product or service.
The results of various studies confirm that 77 percent of consumers think of a brand positively if it requests feedback.
Other than influencing prospective customers as social proofs, reviews also help the customer service team get more insights into customers' psyche and enhance their brand experience.