eCommerce Thank-You Emails to Customers
Sending thank-you emails to eCommerce customers is a way to boost engagement with them and develop a relationship of trust. With ShippingChimp, you can share custom thank-you emails.
Start your free trial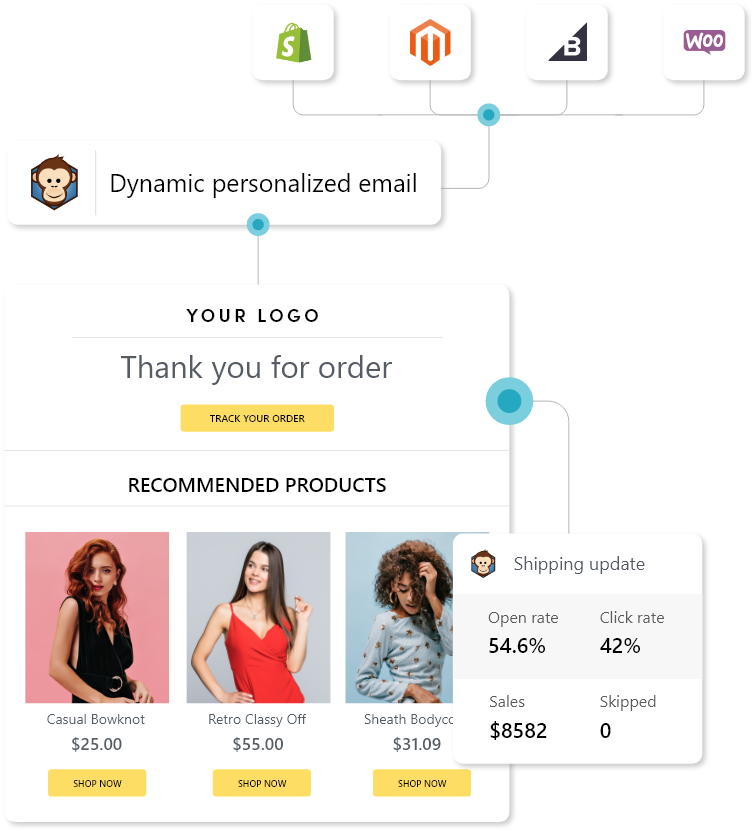 Trusted by the worlds leading brands




How often do you send emails to your customers of your eCommerce store, thanking them for their business or wishing them on a special occasion?
Studies show that 60 percent of businesses lose customers due to treating their customers indifferently. Customers expect at least some gratitude from the companies for their business.
This is why by sending thank-you emails, your eCommerce business can improve customer engagement and loyalty.
Moreover, the average open rate of thank-you emails can be up to 90 percent. This is significantly higher than other eCommerce email campaigns. It will also give you opportunities to upsell or cross-sell products or services.
When Do You Need to Send Thank-you Emails?
The key to sending the best thank-you emails is sending to the right people and on the right occasion.
You can send the following eCommerce thank-you emails by automating them:
Sending emails to loyal customers;
On customers' birthday;
Customers asking for support;
Thank-you cards on holidays (Christmas, New Year, Memorial Day, etc.);
For newsletter subscription;
Sending these emails is easy. All you need is an email automation tool and feed it with personalized messages. The automation tool will trigger those thank-you messages based on customers' actions.
How to drive eCommerce sales through thank-you emails?
If you make your eCommerce customers feel valued and appreciated, it is likely to pay off through financial benefits.
Studies have proven that 38 percent of customers relate their brand experience to personalization. It means a memorable customer experience will delight your customers.
When your customers feel delighted, they will most likely come back to your online store, and make repeat purchases. It means your effort of thanking your customers can boost your profitability.
Sample eCommerce Thank-You Emails
Your thank-you emails need to be nicely designed, well-formatted, and should have a creative subject line.
1. Thanking customers for their purchase
After a customer places an order and receives it, you can send an email thanking him/her for the purchase.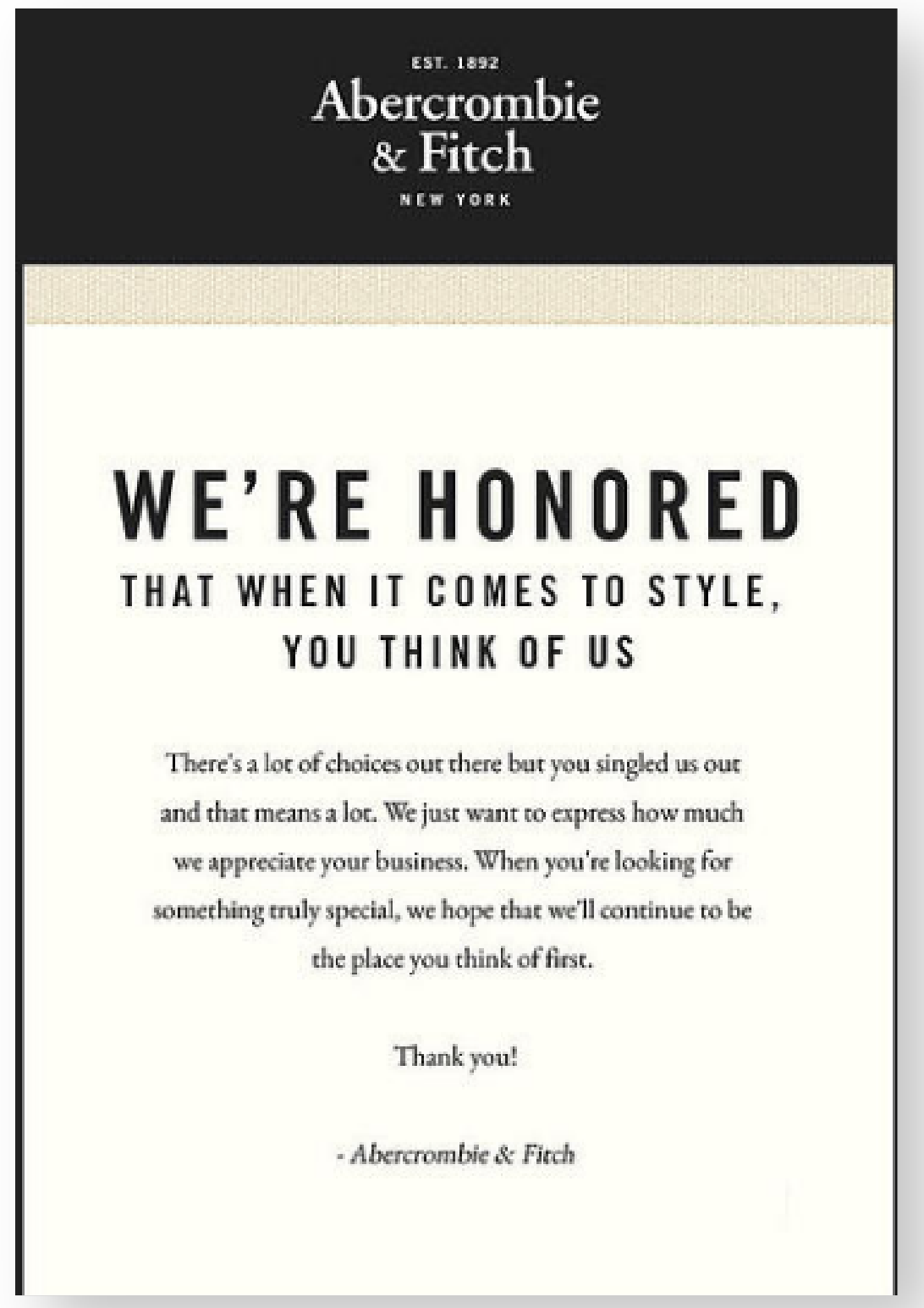 Thank You for the Purchase Email (Source: smartmail.io)
2. Thanking for customers' payment
No matter how advanced technology you use, it can be uncomfortable for customers if they do not receive an email confirming their payment.
Sending a confirmation email for payment makes your customers feel reassured about their online transactions.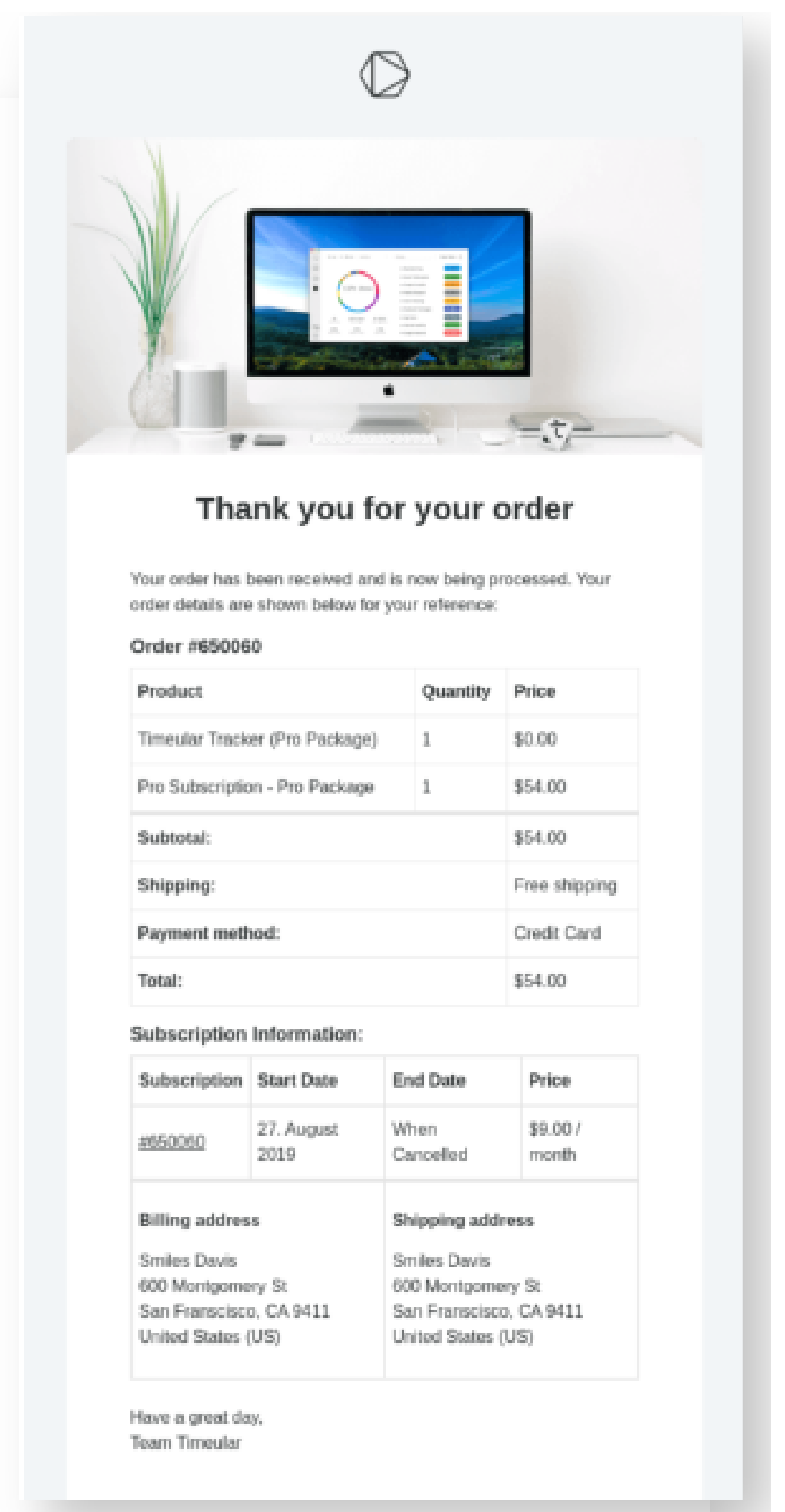 Payment Confirmation Email (Source: envoke.com)
It is ideal to send thank-you emails for payment as a part of your order confirmation email.
3. Thanking customers for registering
You can thank online visitors who register for your product or service either on your website or app.
Sending a thank-you email for registering will help you activate new users and connect with them in the future.
It is better to avoid being salesy in your thank-you emails. Give new users enough time to explore and understand the use of your product or service, and then approach for sales.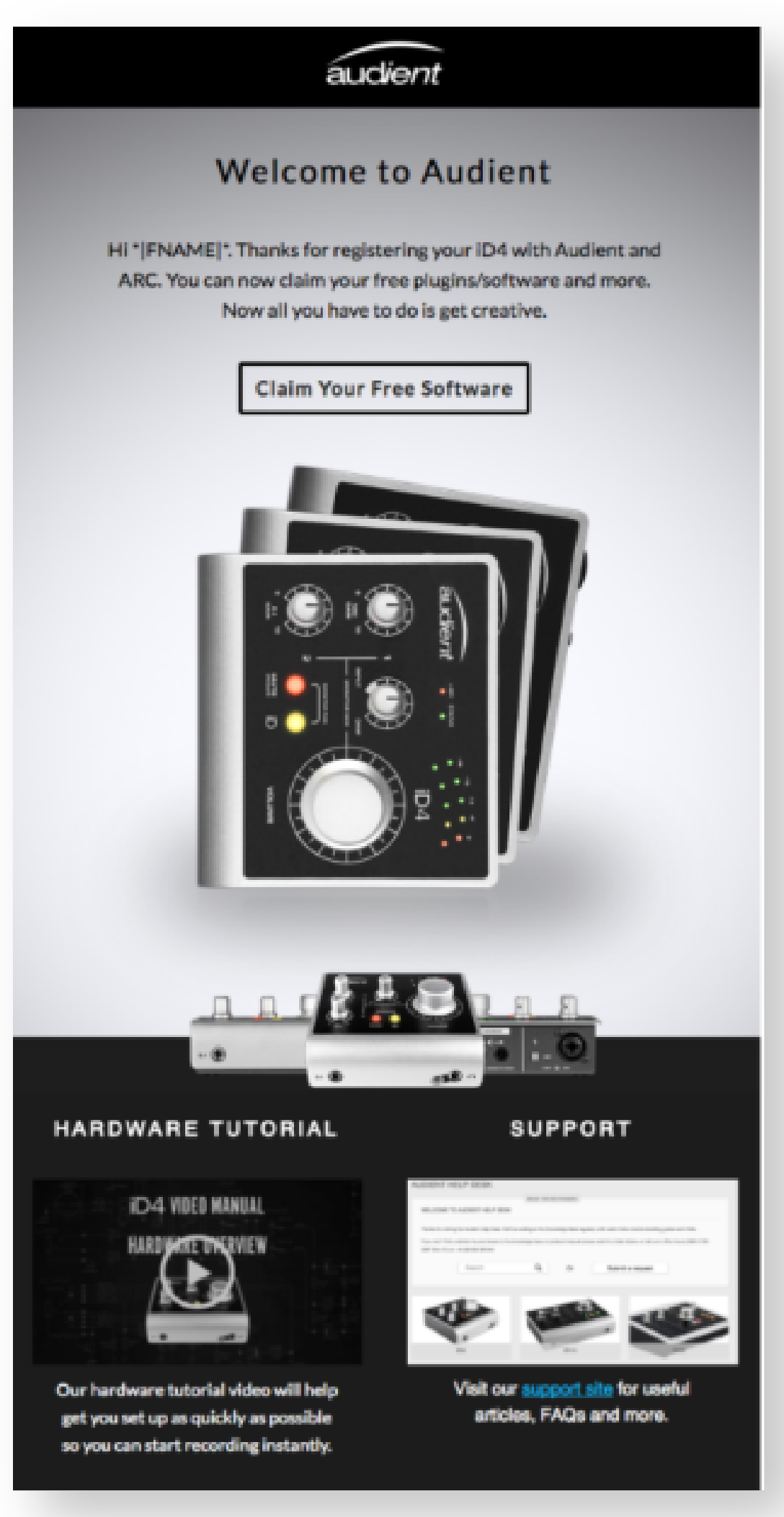 Thank you Email for Registering (Source: envoke.com)
4. Thank-you email for signing up
It is a good idea to thank online visitors to sign up for your newsletter or updates.
You can send a thank-you email to new subscribers, telling them what types of updates they can expect after joining your email list.
The following email by Codeverser is a good example of a thank-you email for signing up.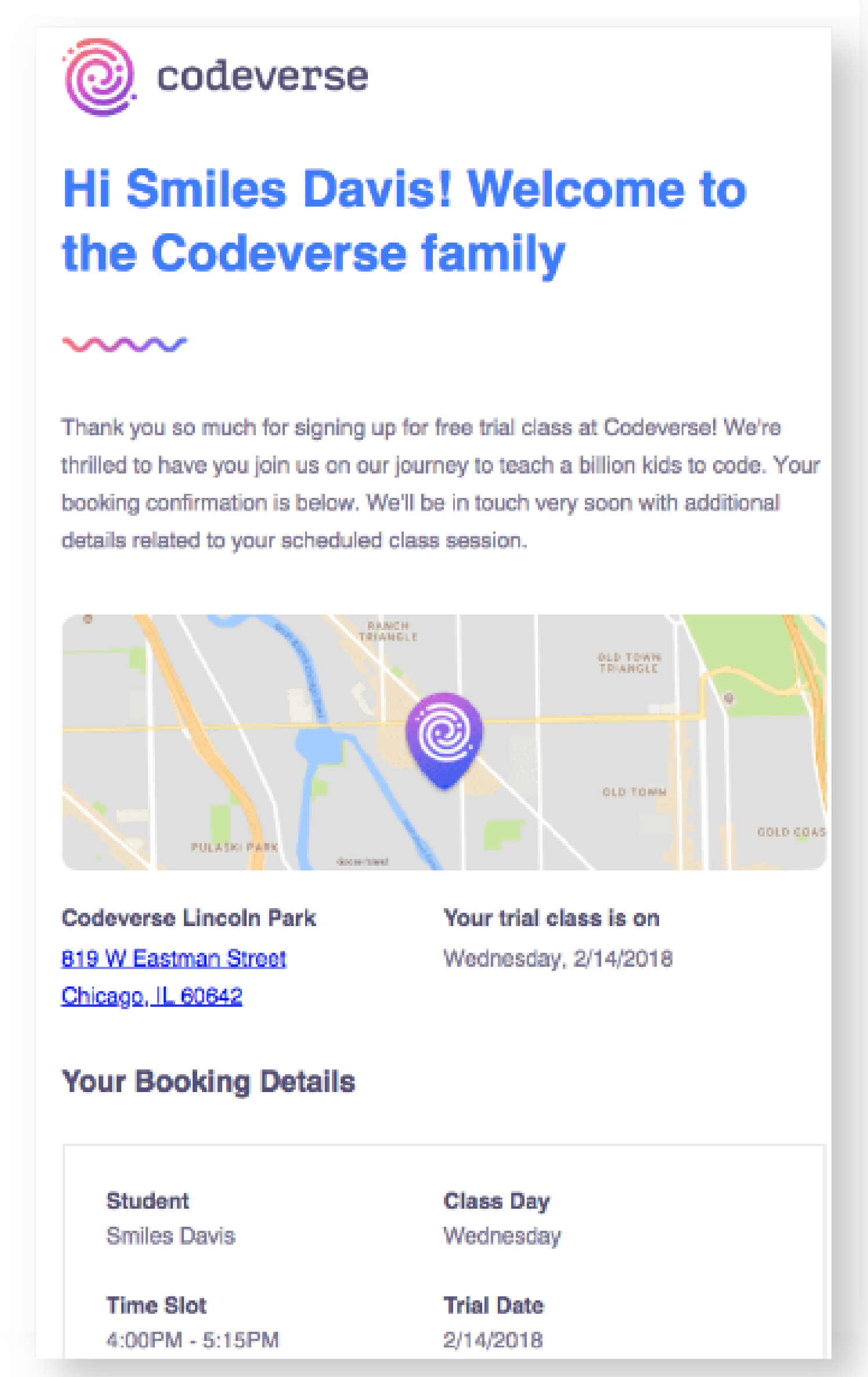 Thank-you for Signing up Email (Source: automizy.com)
5. Thanking customers for their eCommerce order
You can send a thank-you email confirming customers' orders with simple and catchy content.
In the email, you can include the followings:
Order No. and item purchased;
Price/invoice;
Estimated delivery date;
Cancellation/Return procedure.
Here is an example of a thank-you email confirming a customer's order.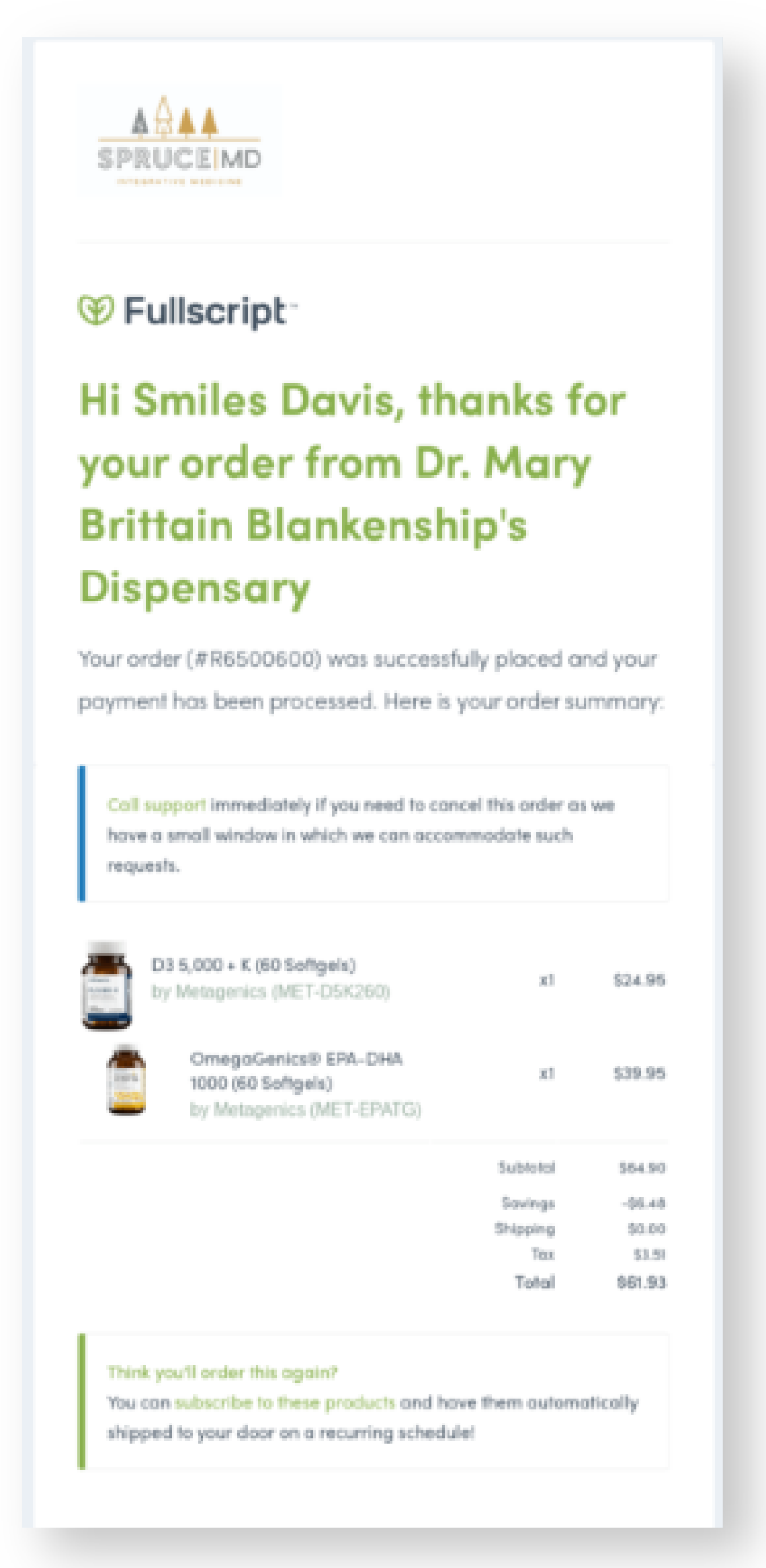 Thank-you Email for Ordering (Source: envoke.com)
6. Thank you email for referral
A referral program is an effective and inexpensive way to increase sales.
When managing an eCommerce business, you can send thank-you emails to customers, motivating them to refer your product or service to family members, friends, or colleagues for a reward.
In the example below, the thank-you email by HARRY'S to its loyal customers, encouraging them to refer friends and get a free product.
Thank-you email for contacting support
Thank-you email for contacting support
When customers contact you for your support service, there are two things you can do:
Solve the customer's issue quickly;
Send a thank-you email for contacting your business.
Showing appreciation to customers for contacting your business with a genuine thank-you email is likely to build their trust and boost engagement.
8. Thank-you email with a giveaway
Sending thank-you emails with a giveaway is a nice way to show appreciation to customers, who will feel delighted with such a gesture.
When sending such emails, make sure the giveaway matches with their preferred products or services.
For example, if you run an online clothing store, you can offer customers to buy clothing items of their choice at a significant discount.
Also, if customers have signed up for your newsletter and bought products from your store before, you can send them discount coupons or gift cards that they can redeem online or in-store.
9. Thanking customers for their support
In our personal lives, we say thank you to people who help and support us. The same applies to businesses.
Sending thank-you emails to customers for their support, expressing your gratitude will make them feel valued.
In the following email, Methodical Coffee did exactly that by thanking customers for their support.
10. Thank-you email for customer feedback
Customer feedback is important to understand the areas of improvement for your products and services.
Send thank-you emails to customers for their feedback by taking out their time to give opinions on certain issues.
The email below by FitStar is a simple and good example of a feedback email.
11. Thank-you email for milestones
You can send thank-you emails to customers on the occasion of your company's anniversary, product launch, or business expansion, showing gratitude being part of your journey.
Remember that when sending a thank-you email for milestones, avoid doing any promotion.
12. Thank-you email on birthdays/holidays
Take the opportunity to send thank-you emails to customers on special occasions like their birthdays or upcoming holidays.
In those emails, you can send a discount coupon to customers as a birthday present, and also thank them for choosing your company. Such gestures will delight customers, and they would feel more connected to your brand.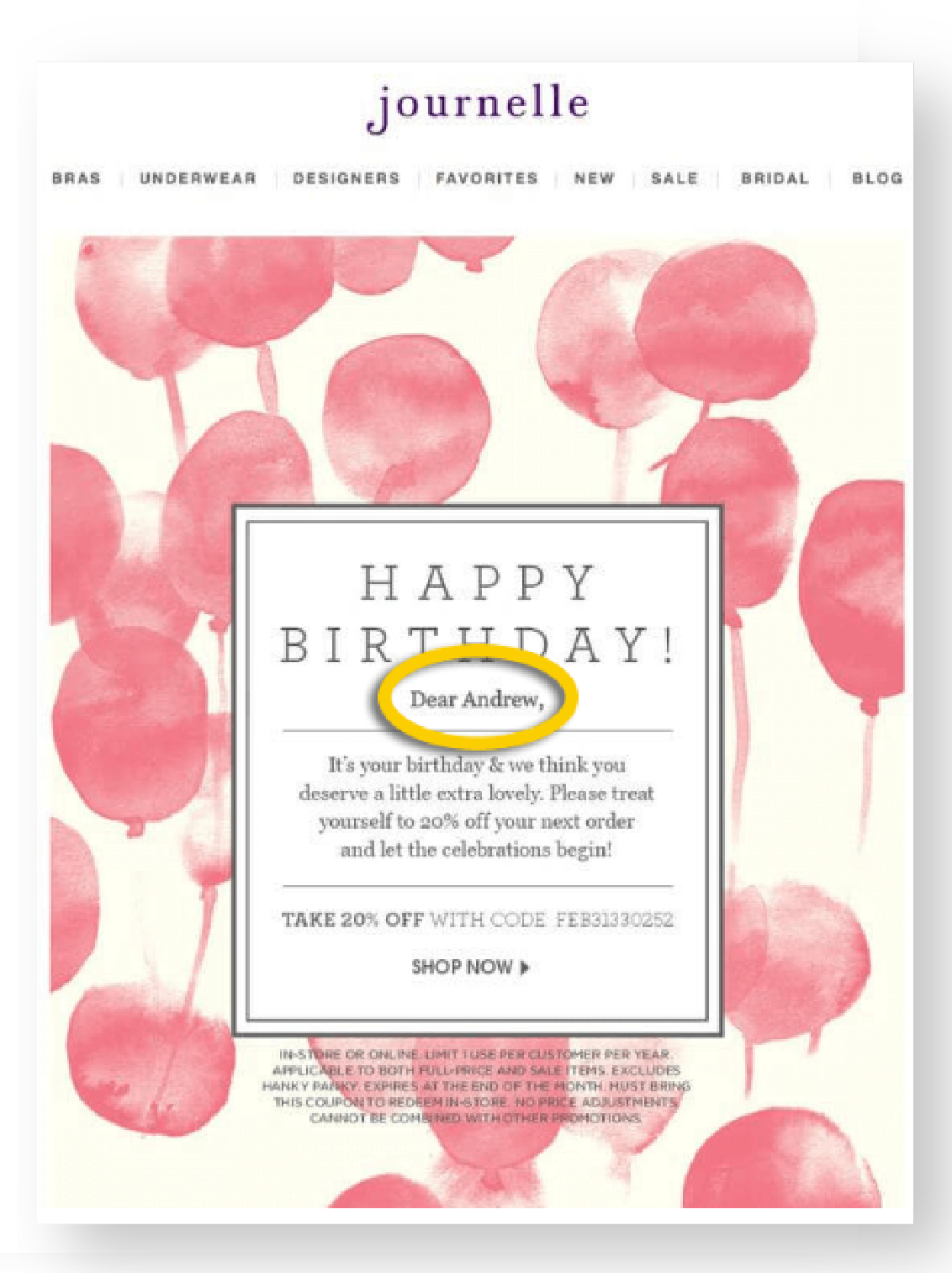 Thank-you Email on Customer's Birthday (Source: blog.smile.io)
Conclusion
The bottom line is sending thank-you emails to customers are opportunities to engage with them and increase their lifetime value.
Thank-you emails can be simple yet creative, but the messages inside should be clear and sincere. The emails should be able to strengthen your relationship with customers for a long period.