Shipment Delay
Shipping delays have been a concern for eCommerce businesses. Predict shipment delays and inform customers even before they get impacted. ShippingChimp's AI predicts and shares auto alerts with your customers on your behalf.
Start your free trial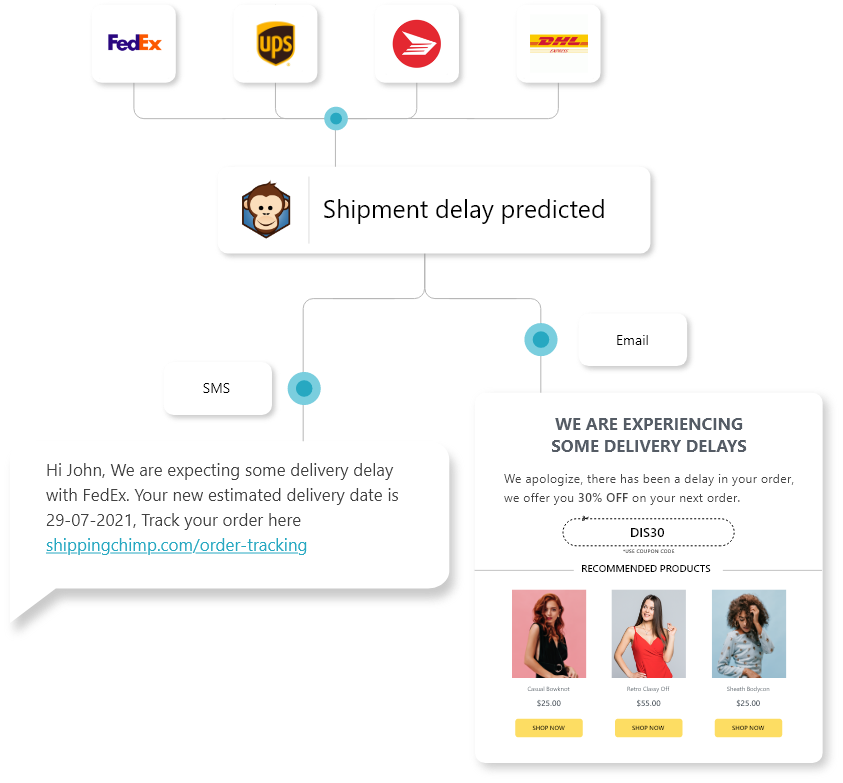 Trusted by the worlds leading brands




eCommerce order fulfillment looks routine and seamless. Customers place their orders online, your order fulfillment team picks the items from inventory, does printing, labeling, and packing, and then sends them to customers' addresses via a shipping carrier.
However, eCommerce delivery can go wrong at any time due to a human error or an unforeseen issue.
Shipping delays are also common during the holiday season when the volumes of parcels get extremely high.
What Causes eCommerce Shipping Delays?
The most common causes of shipping delays are listed below:
High Package Volumes
Shipping delays often happen when there is a spike in eCommerce shopping and package volumes. For example, during the lockdown period last year due to the pandemic, there was a huge surge in eCommerce shopping and package volumes. In fact, during the pandemic period, eCommerce spending increased by 30.1 percent.
Although increased sales and revenues were good for eCommerce businesses, they faced a stiff challenge to fulfill all those orders. It led to order processing and shipping delays.
According to a report by Digital Commerce 360, online retailers took nearly 1.5 days longer than average order fulfillment. It was mainly because they were not ready for that kind of volume surge and also not equipped to scale up their shipping during the pandemic-induced spike.
Insufficient Infrastructure
Another major cause of shipping delays is inadequate infrastructure. Even a routine order fulfillment process includes the steps of collecting an item, sorting, and shipping, and it needs reliability and efficiency.
If a retail business does not have a proper order management system, it will lack cohesive action, and increase the chances of errors in order processing, which may result in delayed shipping.
In-Transit Issues
Despite an eCommerce business and its shipping carrier doing everything right, a package can get delayed due to unforeseen in-transit issues.
Issues such as bad weather, accidents, and roadblock, the shipping vehicle may get stuck somewhere. When such problems happen, the retailer needs to notify the customer about the potential delay.
Processing Error
Another reason for shipping delay is processing error which usually happens due to human intervention. For example, a misplaced digit or word in the suite or street number may lead to failed delivery. In such cases, a package may never reach a recipient, and the carrier sends back the package.
FedEx Shipping Delay
In recent times, FedEx faced issues to keep up with high package volumes, especially during the rush holiday season.
According to data by ShipMatrix, from March through mid-April, 2021, nearly 87 percent of FedEx Ground shipments reached their destination on time, lower than UPS with 95 percent on-time delivery. Such shipping delays are frustrating for customers, and some of them turned to other shippers for order fulfillment.
FedEx came under huge pressure due to a record number of packages last year and struggled to deliver on time.
FedEx cites the following reason for shipping delays:
High Parcel Volume
There are still partial lockdown in place in the US and many other countries to restrict the surge of the COVID-19 pandemic. It means retail businesses are still processing high volumes of packages since people are shopping online to avoid in-store crowds. It has put pressure on logistics networks, which may cause delays.
Closure of Businesses
The pandemic continues to force many businesses around the world to close. If customers need to send packages to regions that have logistical restrictions, you need to inform them before shipping those items.
Disruptions due to Weather
Harsh weather conditions may cause disruptions during both inbound and outbound shipments. For the safety of FedEx team members and protecting packages, the carrier may decide to stay put until the situation gets better.
According to the FedEx spokesperson, despite the high package volume, all FedEx Ground Shipments delivered orders on average 2.2 days.
Effective from April 6, 2021, FedEx has reinstated its money-back guarantee for select FedEx Express services for US Domestic and import/export shipments.
UPS Shipping Delay
According to a report by ShipMatrix, UPS ranked No. 1 for timely package deliveries during the holiday season in 2020 and stayed ahead of FedEx and USPS.
In the two weeks leading to Christmas (Dec. 11-17/Dec. 18-24):
UPS delivered 85 percent and 86 percent of packages on time
FedEx delivered 69 percent and 76 percent of packages on time, and
USPS delivered 55 percent and 58 percent of packages on time.
Despite the highest success rate, UPS packages get delayed too. According to the company, it takes the following actions in such situations:
Regular monitoring of UPS ground and air networks to address possible sources of disruption.
Adhering to regulations of applicable governments to contain Coronavirus.
Providing guidance and information to UPS staff spread across different parts of the world about the best ways to prevent the infection, according to the guidelines of the World Health Organization (WHO). Also, complying with the Centers for Disease Control and Prevention (CDC) within the US.
Increase the ability to track packages worldwide on ups.com.
USPS Shipping Delay
The United States Postal Services (USPS) is the national postal service regulated by the US government to provide reliable and affordable postal/package delivery across the country.
USPS has more than 31,000 retail locations in the US, and it delivers nearly 700 million mails and parcels every day. Due to such high volumes, USPS often encounters shipping delays.
The courier is estimated to deliver a little less than 88 percent of packages via regular First-Class Mail on time within a two-day turnaround and less than 69 percent of packages on time in the 3-5 day window.
Most USPS services do not come with a delivery guarantee. It means if you send customers their packages via USPS, they may reach before or after the estimated delivery date.
In case of shipping delays, USPS suggests customers wait for five more days after the delivery window passes.
The tracking page of USPS will show the latest update of a package. If no update is available or status does not change for days, you or your customer can send an email to USPS Customer Service or call them at 1-800-ASK-USPS (1-800-275-8777) to know the status.
In case of a lost package, the retailer or the customer has to submit a "Missing Mail" search request. Then USPS will try to find out the missing package and dispatch it to the customer.
If the courier could not find the item, the customer can request a refund if it is Priority Mail Express with a money-back guarantee.
USPS Shipment Tracking Page
If you are trying to track a package, you might not find any tracking update like the screenshot above and see a message "Status Not Available."
It means that the whereabouts of the package are unknown. There could be unforeseen situations during the transit of the shipment, causing shipping delays.
How can eCommerce stores handle shipment delays?
Shipment delays seem inevitable. The best way to combat shipment delays is to be upfront with customers. Here are the best practices to handle shipment delays :
Allow customers to track packages in real-time
Stay on top of delivery issues and exceptions at all times
Quickly respond to customer queries on "where is my order"
Predict delays even before they take place and share the updates.
Be apologetic and include discount code to make up for an unexpected delay