SMS Marketing
SMS marketing is a simple and cost-effective marketing channel to communicate with the target audience. Text messages have higher open rates than emails. ShippingChimp allows brands to construct a post-purchase flow using SMS.
Start your free trial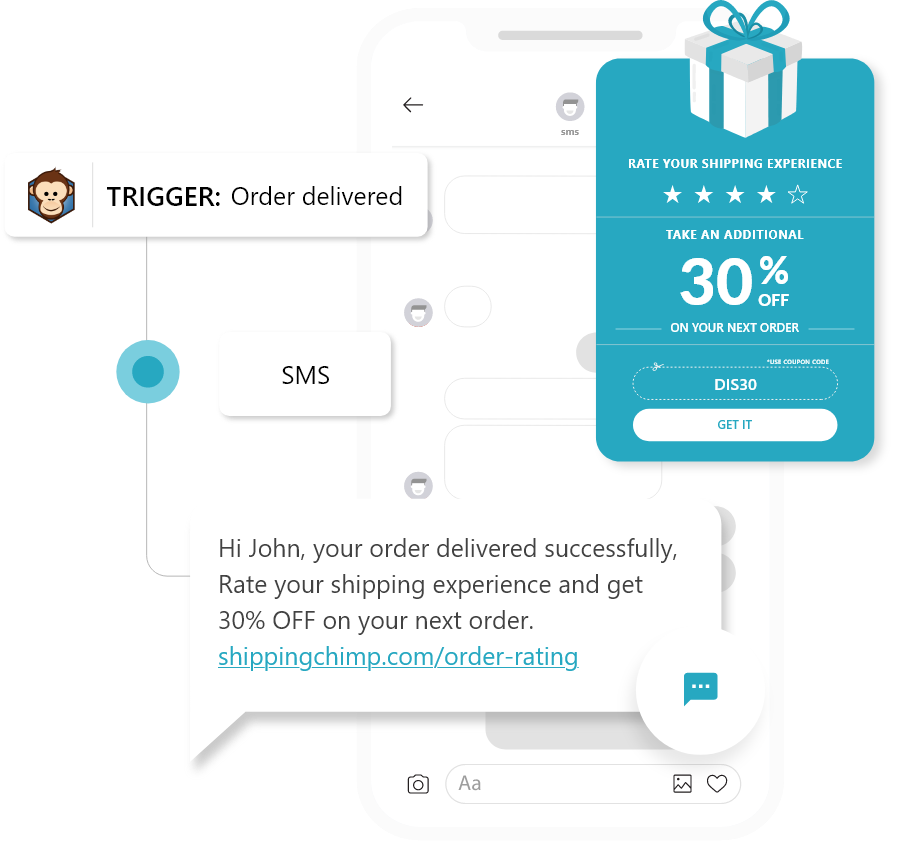 Trusted by the worlds leading brands




SMS Marketing is sending promotional text messages by a brand to shoppers.
When shoppers opt-in to receive updates on the product through SMS, it marks the beginning of SMS Marketing.
Even big brands such as Facebook, Reebok, CNN, IKEA, and Tommy Hilfiger are using SMS marketing to reach customers in an efficient and cost-effective way.
In recent years, the use of SMS for promotional purposes has increased at a rapid pace. A survey by SimpleTexting shows that 61 percent of marketers are planning to use more SMS marketing in the future.
The high opening rates of SMS and its simplicity as a marketing strategy have made this method one of the top marketing trends for 2021.
Also, the increasing interest of consumers in SMS is encouraging eCommerce marketers to use it more often. People are clicking, opening, and taking action more frequently to SMS than marketing emails.
What is SMS Marketing?
SMS marketing is about sending promotional or transactional text messages to existing and potential consumers.
The text messages are easy to create, send and recipients open them in seconds. More accurately, SMS reaches customers within 5 seconds and they open them within 90 seconds.
Marketers integrate SMS marketing as one of their multi-channel marketing strategies, as it is less expensive, has a high customer engagement, is efficient, and scalable.
Key Statistics on SMS Marketing
Nearly 64 percent of customers prefer that companies should contact them more often via SMS.
75 percent of customers said they want to receive special offers via text messages.
Almost 61 percent of businesses still do not use SMS marketing.
In the US, customers prefer SMS over phone calls when it comes to customer service.
Around 4.5x of customers will most likely respond to SMS.
SMS is a preferred mode of communication for customers in the 18-34-year age bracket.
53 percent of customers prefer SMS for fraud alerts and service outages to receiving emails.
29 percent of customers click the links in text messages.
Financial services companies can significantly increase their collection rates and lower the involvement of their customer service by 60 percent using SMS.
Two-way text messages can improve companies' net promoter scores and increase their efficiency by around 80 percent.
60 percent of retail customers prefer using SMS for customer service than calling call centers.
Nearly 23 billion SMS are sent every day worldwide.
The Method & Purpose of SMS Marketing
Marketers send SMS using "shortcodes," which usually have between 5 and 6 digits, and may relate to a single sender, or associated with multiple senders.
Many countries do not allow altering the sender information in text messages. It means an SMS will appear with the shortcode your service provider uses (not from the marketer). This is why you need to include your company's name in the SMS.
There are two types of message for SMS marketing:
Marketing Messages: Marketing SMS is about sending bulk text messages to many customers at once. These text messages typically comprise promotions (discounted sales, coupons, etc.), or generic information, such as events, updates, alerts, etc.
Transactional Messages:Transactional SMS are "one-to-one" text messages that trigger by specific events or actions. For example, sending SMS for order confirmation or notifying the shipping status of an item. These text messages carry relevant updates to customers.
Why does SMS Marketing prove to be Effective?
SMS is a highly effective marketing channel for the following reasons:
More Use of Smartphones: Almost 85 percent of adults in the US own a smartphone as of February 2021. SMS is an effective way to reach these customers directly. Marketers can include a link in the text and can drive engagement for their business online.
Faster than Email Marketing:Although SMS and email marketing are similar in many ways, they are effective when used in tandem. You can send text messages for instant notifications, and use emails for more long-form campaigns.
High Open Rates:SMS has high open rates than emails. Recipients read nearly 90 percent of SMS within 3 minutes, which makes text messages useful in delivering crucial information more successfully.
Cost-Effective for Emerging Industries: If you are planning to expand your business in countries that have high data and Wi-Fi costs, SMS is an economical way to communicate with customers.
How Can eCommerce stores benefit from using SMS Marketing?
Whether sending promotional campaigns or order/shipping notifications, text messaging is an effective method for eCommerce stores. ECommerce stores can segment and set triggers based on activity to shoot texts to their shoppers. The click through rates are significantly higher.
Additionally, SMS marketing as a channel for eCommerce stores helps them engage with customers to nudge them to repeatedly purchase from them. Besides, crafting a personalised text messages can definitely drive more revenue to your eCommerce store.
Examples of SMS Marketing
Sending text messages with discount codes and promotions to customers' phones;
SMS alerts on a new product launch or restocked products;
Sending text reminders to buy products still in customers' shopping cart;
Text alerts for eCommerce events;
SMS with requests to write a review or complete a survey.
Closing Words
The rise of digital technologies has made communication easy and flexible than ever. On top of it, the pandemic has fast-tracked its pace. A report from June 2020 shows that American adults spent 23 extra minutes per day on their smartphones on average.
It means eCommerce marketers can capitalize on this opportunity by sending text messages to promote their products and services.